Certified Organic Apiary
Lake Eildon National Park
Strathbogie State Forest
Autumn Honey Flow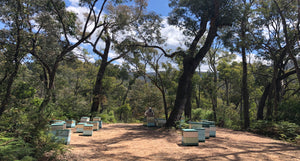 New Season Honey
March 7th, 2023.
We are very excited to have the first of our New Season honey varieties avaiable - better late than never!
We've had our most challenging season yet, with rain, rain and more rain. In season's past we've had honey harvested in Spring, through until late Autumn, but this season we didn't have anything harvested until February! It has simply been too cold and wet for the trees to yeild and the bees to forage beyond thier daily needs.
The race is now on to harvest as much as we can while the trees are yelding nectar and the bees are busy producing honey which here in Victoria could continue until late in April. Not long!
We hope you enjoy our new selection of RAW honey varieties and we hope to add a few more over the coming weeks.
Image: Organic Apiary located in the Lake Eildon National Park.